Satellite Hockey Game a Success in Spite of Loss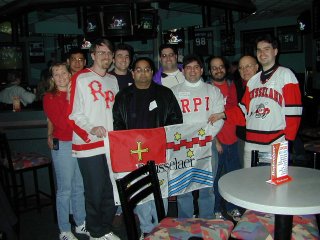 Dave Aiello said, "It's pretty tough to say, but we all had a good time at the Satellite Hockey Broadcast at the Sportz Bar and Grill in East Hanover on Saturday night. I say that because RPI lost to Clarkson, 3-1."

"How do you know we had a good time? The proof is in the pictures, of course."

"Thanks to John Cloninger for acting as the official host of this event. We'd also like to thank Kate Potvin and her boyfriend Matt Brown for driving down from Troy and joining us."

"Read on for more pictures of John Cloninger and his friends...."
Dave Aiello continues:

When I was writing this story, I couldn't decide if John Cloninger was running for Mayor of East Hanover, NJ, or if he was just the host of the Satellite Hockey Game. That's not really fair for me to say because I set him up for this. I took most of the pictures, and I insisted that John get into most of them.



Pictured here is John Cloninger with John and Elise Caporale and one other person.


In the finest Web tradition, I am posting these photos as soon as I can, so I am still pulling together captions and credits for them. If you are pictured in any of these photos, and you have not been identified in a caption, send me an email at dave_aiello@ctdata.com.



Pictured here is Sandeep Nandy, Steve Nudelman, John Cloninger and Dave Nangle.


I allege that Steve Nudelman said that the RCNJ Satellite Hockey Event was a lot more happening than he remembers the New York City Chapter's event was last year. Maybe Mike Torre can show us some of his pictures from this year for comparison?





Pictured here is Knute Leidal and his wife Betty Leidal. I had a really nice conversation with them.


It's great when I see people at our events who I have not seen at other recent RCNJ events. Knute said that they had been to the Rensselaer 175th Anniversary Event at the Liberty Science Center, and that they had also been to the dinner where we introduced former RPI president R. Byron Pipes to the alumni of New Jersey. So, they are definitely not strangers.





Pictured here are Chris and Karen Parsons. They live in Long Valley, which is a town in Morris County that is on Route 24 west of Chester. Most people who live in Morris County don't know that.




Pictured here is Mike Lobo, Denise Combs, and Dave Aiello (that's me).


Denise works for Schindler Elevator in Morristown. Denise says that Mike is a classmate of hers (they are Class of '93) and he works in a civilian position for the U.S. Air Force in Colorado Springs, CO.





This is by far my favorite picture. Bud Maasch of the Class of 1931 is pictured here. Bud's 70th reunion is coming up in June. On his right is Jim Odell, who I think is his son-in-law.


I'm willing to bet that this is the first time that Bud's picture has appeared on the Internet.





When Kate Potvin arrived with her boyfriend Matt Brown, we got her to pose for a picture with John Cloninger and me.


Matt used my digital camera to take the big group photo that appears in the story introduction. That's a good picture, thanks a lot.


Doesn't it look like we are having a good time?





John Markert introduced himself to us after the game. I had seen him earlier in the evening, but I originally thought he was with Clarkson. Silly me.


I felt embarassed at that point, so John Cloninger graciously agreed to be a part of the photo.





Here is a picture of the Satellite Hockey Game event hosts. John Cloninger represents RPI. Rich Stamboulian represents Clarkson. Rich has a Clarkson sweater with Dave Taylor's name on it. Anybody remember who that is?


Cloninger says he has a 1-4 record as host. Stamboulian has spent most of his recent career as a gracious winner.


We'll get 'em next year.