Isermann Presents Rare Baseball Artifact to Yogi Berra Museum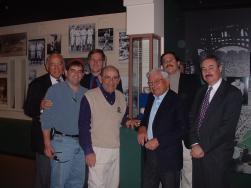 Dave Aiello wrote, "On Monday, Howard Isermann '42 presented a a baseball signed by Babe Ruth and Lou Gehrig to the Yogi Berra Museum and Learning Center in Little Falls. The baseball was signed by Ruth and Gehrig in 1933, and is in mint condition."

"This picture shows most of the Rensselaer people who were on hand for the presentation. From the left: Ken DeGhetto '50, Dave Aiello '89, Bud Baeslack '78, Dean of the School of Engineering, Yogi Berra, Howard Isermann '42, and Jonathan Dordick, the Howard P. Isermann Professor of Biochemical Engineering, and Phil Lurie '74."
"Howard's baseball and its original box can be seen in the picture in the glass case between Yogi and Howard."
Update on 12/12/2002: Bud Baeslack told us about the excellent story about this event published on the School of Engineering web site. It includes a number of additional photos.