Rensselaer Community Participates in Banner Signing to Support Division I Hockey
On Monday, Campus.News reported on a banner signing to support Division I hockey at Rensselaer that took place over the weekend at the men's hockey games at Houston Field House.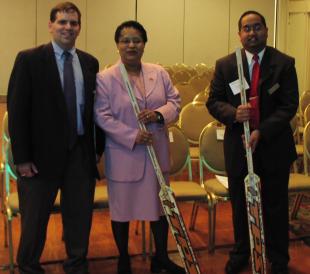 The banner reads "Support Puckman, Support 65-1". Puckman is a name of the RPI Hockey mascot (see the photo on the Campus.News page). "65-1" refers to a proposed amendment to Amendment 65 which would eliminate the waiver allowing eight Division III schools (including RPI) to "play up" in Division I sports that they have traditionally participated in.
Not to steal any of the thunder from this event, but, we have to wonder if the Rensselaer Athletic Department got the idea to do this from the RCNJ stick signing that took place on October 21?
Dave Aiello received an email from men's ice hockey head coach Dan Fridgen last week. In his response to Coach Fridgen, Dave said: "I think the more people we can get to participate in this type of consciousness-raising, the better it is for us and the other schools affected."