Alumni Hockey Weekend Revolves Around 1954 Championship Team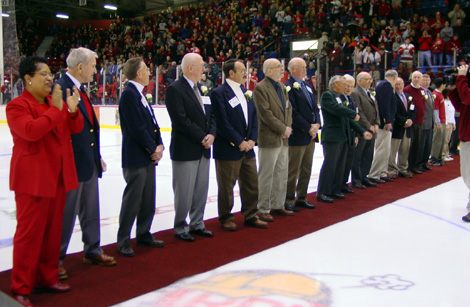 Dave Aiello wrote, "Kathleen and I were able to attend all of the Alumni Hockey Weekend festivities at Houston Field House on Saturday. These events were focused on the 1954 NCAA Championship Team and honored its members and their families."
"In the morning, a breakfast was held for the players of the current team, the hockey alumni, and their families. Each of the members of the 1954 team had an opportunity to speak, including head coach Ned Harkness, now 82 years old. This breakfast had a very large turnout which made it difficult for me to meet everyone that I hadn't met before. I had the opportunity to talk to John Magadini, the only 1954 team member who lives in New Jersey, and Gord Peterkin, the member of the team who scored the game winning goal in the championship game. That was a very nice experience."
"The breakfast was immediately followed by the Alumni Hockey Game. Three of my classmates (from the Class of 1989) who played for RPI attended Alumni Hockey Weekend for the first time. Graeme Townshend played in the game and we played together on the same forward line at times. Steve Moore and Rob Schena also attended the game, but did not play. Steve Duncan also attended the game, but he has played in the Alumni Game previously. This was Rob Schena and Steve Moore's first visits to campus since we graduated 15 years ago."
"Gord Peterkin '55 played a few shifts in the Alumni Game, probably setting the record for on-ice participation. There were a number of strong performances in the game, by alumni like Tony Hejna, Dino Macaluso, Graeme Townshend, Mike Robinson, and Scott Prekaskie."
"There was time between the Alumni Game and the Big Red Freakout for people to relax and possibly attend the Alumni Ice House before the Big Red Freakout."
"The Freakout was totally sold out this year. John Cloninger told me that he was told that the seats that were not reserved for the hockey alumni had sold out several weeks ago. This was obvious because the Clarkson Pep Band was unable to attend, and relatively few Clarkson fans got seats."
"The pre game included a 30-minute ceremony honoring the 1954 team. Each member of the team was presented with an NCAA Championship ring by President Shirley Ann Jackson and Athletic Director Ken Ralph. The custom of awarding championship rings had not developed in 1954, but has since become a standard for national championship teams at the college and professional levels. I did not expect RPI to do this, and my wife and I were thrilled that the school made this gesture."
"During the first intermission, the remaining hockey alumni were introduced to the sell-out crowd. Each year that I have attended the Alumni Hockey Weekend, we've had more former players and managers return. This year we had more alumni to introduce than ever before, and I hope the trend continues." [Photo courtesy of Rensselaer Athletics]