RCNJ Members Receive Tour of George Washington Bridge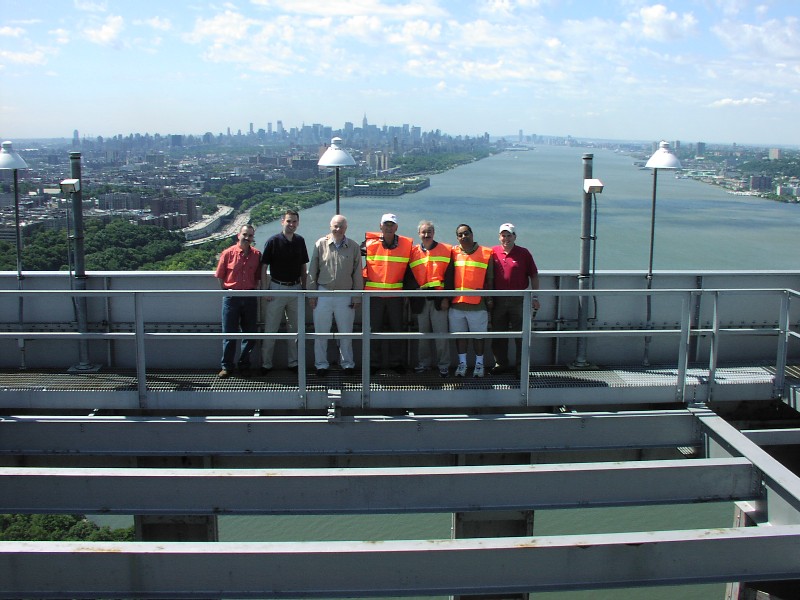 On Friday August 6, several RCNJ leadership committee members were treated to a special behind-the-scenes tour of the
world's busiest bridge, the George Washington Bridge. Approximately 300,000 cars travel over the bridge each day.
The RCNJ tour group consisted of RCNJ President Sandeep Nandy '94, Vice President John Cloninger '96, Chairman Ken DeGhetto '50, Treasurer Phil Lurie '74, Past President Dave Aiello '89, Henry Rosenblatt '54 and Nabil Nahra '82. The tour guides from the Port Authority of New York and New Jersey were John Drobny, Mike Degidio and Kevin Vesely. Each of three gentlemen were very knowledgeable, patient and friendly.
The morning began with breakfast at the Port Authority Headquarters in Fort Lee, NJ. After this, the tour group was escorted to the East tower of the bridge (New York side). Through the use of special elevators and ladders, the group climbed to the top of the tower. This was approximately 600 feet above river level and 400 feet above deck level. The views were amazing and the experience can be labeled as "once-in-a-lifetime."
Following this, the group returned to road level and had lunch at Napoli's restaurant in Fort Lee, NJ. After lunch, the RCNJ group was permitted to see the communications/control room. RCNJ President Nandy '94 is currently in negotiations with the Port Authority for a future tour in April, 2005 of the bridge for a larger group. This tour would be different than the one described here. Please continue to visit RCNJ.org for further details about the April, 2005 tour.
Special thanks to Ken DeGhetto '50 for making all the arrangements with the Port Authority which allowed the RCNJ tour group to attend.