President Jackson Speaks about the "Renaissance at Rensselaer" in Morristown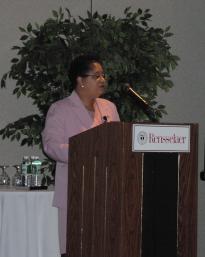 On Tuesday, the Rensselaer Office of Alumni Relations and the RCNJ held an Alumni Reception keynoted by Rensselaer President Shirley Ann Jackson. Dr. Jackson gave an entertaining presentation entitled Renaissance at Rensselaer.
President Jackson's talk focused on the new campus facilities that are now under construction on the Troy campus, including the Biotechnology & Interdisciplinary Research Center and a 500 car parking garage on College Avenue. She also showed a number of photos of the construction in progress, making the progress more real for alumni who had not yet seen it.
Dr. Jackson also pointed out that the first year class, the Class of 2007 is a record breaking class in a number of important ways:
1,356 students
325 women
315 Rensselaer Medalists
88 legacies
Dr. Jackson rightly pointed out that "the Class of 2007 is an affirmation of the renaissance taking place at Rensselaer."
Later in the program, RCNJ Vice President Sandeep Nandy '94 discussed recent achievements of the chapter, upcoming alumni events, and urged alumni who have not taken part in our events in the past to join us. Nandy then presented
Dr. Jackson with two hockey sticks signed by over 100 alumni to demonstrate New Jersey alumni support for Rensselaer's men's Division I ice hockey program.
The alumni reception was held at the Westin Morristown. This photograph of Dr. Jackson was taken by John Cloninger '96.