New Jersey Alumni Support Division I Hockey at Rensselaer with a Stick Signing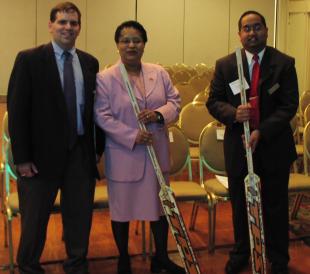 At the alumni reception that took place on October 21 in Morristown, members of the Rensselaer Club of New Jersey presented two signed hockey sticks to President Shirley Ann Jackson to demonstrate support for Division I ice hockey at Rensselaer.
The NCAA Division III Presidents' Council proposed the elimination of scholarship awards at Division III schools that "play up" to Division I in one sport. If this proposal is approved by a vote of Division III athletic directors at a meeting in January, the Rensselaer's men's ice hockey program would lose the ability to grant scholarships.
This proposal has provoked a loud response from the eight schools that would be affected. Dr. Jackson issued a statement opposing the proposal back in August, and the Rensselaer Alumni Association has urged alumni to express their opposition to the proposal.
This stick signing was an attempt to demonstrate this opposition in a unique way. Over 100 alumni attended the reception and participated in the stick signing.
Pictured here, left to right, are RCNJ Past President Dave Aiello '89, Rensselaer President Shirley Ann Jackson, and RCNJ Vice President Sandeep Nandy '94. This photograph was taken by John Cloninger '96.