Haviland's Presentation at RCNJ Fall Dinner Focuses on New Campus Facilities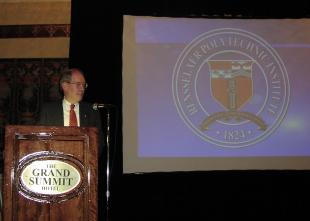 Dave Aiello wrote, "Last night, the RCNJ held its Fall Dinner Meeting for 2001. Rensselaer's Vice President for Institutional Advancement, David Haviland '64, gave an entertaining presentation on the progress that has been made toward fulfilling the Rensselaer Plan to date."

"Much of Haviland's talk focused on the new campus facilities that RPI plans to erect on the Troy campus, including the Electronic Media and Performing Arts Center, the Biotechnology Research Center, and a 500 car parking garage on College Avenue."

"The RCNJ Fall Dinner at the Grand Summit Hotel in Summit was the largest event of its kind ever held in New Jersey. Representatives of the Rensselaer Alumni Chapters of New York City and Westchester and Rockland County also attended."

"This photograph of David Haviland was taken by John Cloninger '96. We have a number of other good photographs of the event which we plan to post as we have time, so stay tuned."